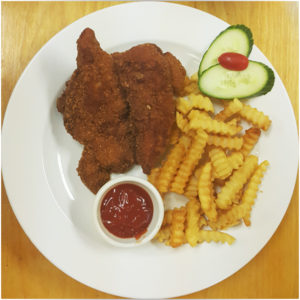 Chicken Tenders & Fries
Succulent juicy chicken tenders fried to crispy golden perfection.
Served with fries, and your choice of Ghetto Sauce, BBQ Sauce, Honey mustard sauce, or Ranch.
Sauces:
Ghetto sauce, is spicy, zingy and moreish.
BBQ Sauce, is smokey bold, and sweet.
Honey Mustard Sauce, is sweet, not to strong and bold.
$7.95
Can be ordered via phone for pick up, or eaten in.